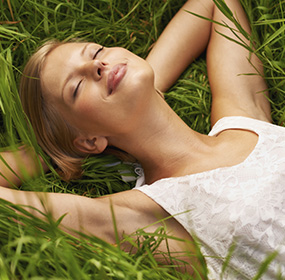 There are many reasons 50% of the population put dental care at the bottom of the healthcare list: Some people are downright fearful, others have suffered bad experiences in the past and now suffer from dental anxiety. Then there are those who have a very strong gag reflex, and going to the dentist is a real ordeal. Or maybe extensive care is needed and there simply aren't enough hours in the day to accomplish it.
Once you've visited us at Barrett Dental Care, you'll never be afraid to go to the dentist again. Louisville sedation dentistry practitioner Dr. Charles Barrett will help you select the right sedation dentistry option for you. Your fear and anxiety can melt away as he restores your healthy smile.
Whether it's been six months or six years since your last dental visit, we can often correct any damage or decay in just a single visit or two. Dr. Barrett can even whiten stained or discolored teeth during your appointment. Imagine feeling completely relaxed, with no fear of discomfort, and leaving our office with a healthy, sparkling smile.
Oral Conscious Sedation
After an initial consultation, your dentist will give you an oral conscious sedation treatment to take, it's called Triazolam, before your visit.
You must bring a friend along to get you home after your appointment because oral conscious sedation can make you somewhat woozy.
At your appointment, you'll be drowsy, but thoroughly responsive, which is why it's called oral conscious sedation.
The oral conscious sedation dentistry team will monitor your every move throughout.
The big plus: Most patients don't feel anything when they use oral conscious sedation, and all your dentistry needs can be accomplished at one time, sometimes in as little as two to six hours, from straightforward care to the most complicated.
IV Sedation
For anxious patients, IV sedation is a kind of miracle, a boon to dental health.
For the medically compromised, IV sedation works wonders, too.
With IV sedation, your sedation dentistry doctor can monitor you closely from start to finish.
You will need transportation from your appointment after you have had IV sedation administered.
Your sedation dentistry doctor understands your dental fear, where it comes from, and what health problems can arise as a result. Now you're lucky to have a means to overcome it, with oral conscious sedation or IV sedation methods. Sedation dentistry can assist you in getting the smile of your dreams!