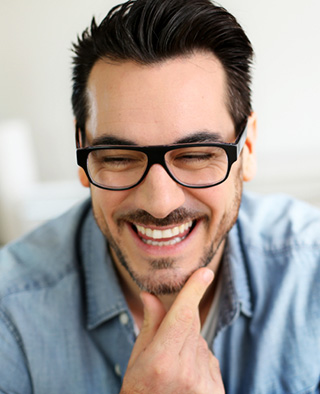 Do you have a missing tooth or several missing teeth that are side by side? Are you noticing that your remaining teeth are getting worn down or sore from overuse? Are you wishing you could feel more confident smiling?
If so, Dr. Charles Barrett of Barrett Dental Care is committed to giving his neighbors in the Louisville area smiles you can be proud of.
There are several restorative and cosmetic dentistry treatments we can offer you. One is dental bridges.
What are Dental Bridges?
A dental bridge is an apparatus, something like a retainer, that is connected on each side of the gap to dental crowns. This dental bridge actually bridges the gap with a natural-looking tooth.
Advantages of Dental Bridges
A dental bridge looks very natural. The dental crowns on each side of the dental bridge as well as the tooth used in the dental bridge itself are all custom made for shape, size and color to match the rest of your smile.
Dental bridges operate and function like natural teeth.
Having a dental bridge to bridge the gap will give your mouth that "full" feeling, like your smile is complete again.
Dental bridges are a rather simple procedure. Your dentist makes a mold of your mouth and sends that information to have the bridge made and the dental crowns made. He will place the dental crowns on the teeth on each side of the dental bridge. Then he will connect the dental bridge to the dental crowns.
Dental bridges can be placed if there are two or three teeth missing as well. This is accomplished by placing dental implants on each side of where the dental bridge will be placed. This is a sturdy, aesthetically pleasing restorative dentistry procedure that can give you back a gorgeous, fully functioning smile.
If you are ready to have a complete, lovely smile again, call Dr. Barrett today!