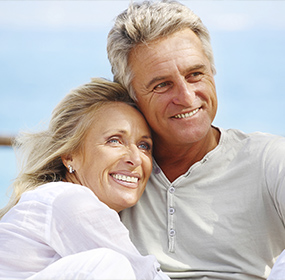 Want a more natural-looking and more comfortable cosmetic dentistry solution to missing teeth than removable dentures? Dr. Charles Barrett of Louisville offers dental implants that he restores with a dental crown, which are permanently anchored into the jawbone and make for better chewing and a more natural smile.
Dental implants are artificial teeth that are permanently anchored into the jaw. Because it's always a perfect fit, dental implants are almost the same as having your natural teeth back again. To qualify for a tooth implant, you'll need healthy oral tissues and jawbone ridges that are in good shape. If you're suffering from tooth loss, Dr. Charles Barrett can discuss whether dental implants are an option for you.
Dental implants form a chemical and mechanical bond with your jawbone and become a part of your natural teeth – so much that the jawbone actually grows into the tooth implant!
A dental crown restores each dental implant, creating a new tooth. The dental crown is custom made to fit your smile. The dental crown looks, feels and functions like a natural tooth.
Dr. Barrett can analyze your individual situation and determine if your oral tissues are healthy enough and your jawbone is in good enough shape to withstand the tooth implant. If not, he will be happy to recommend another dental makeover solution!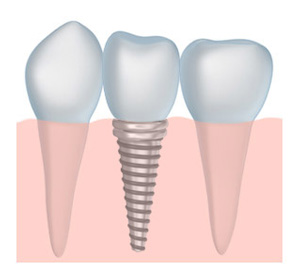 Now you can replace one or more missing or damaged teeth with Louisville dental implants dentist Charles Barrett, D.M.D. Each tooth can be permanently replaced, anchored into the jaw itself, offering a more natural alternative to a dental bridge or the need for dentures. Modern replacement dental crown teeth look and function as if they were your own original teeth.
At Barrett Dental Care we know that many of our patients are concerned about the cost of a dental implant topped with a dental crown. Please don't let that prevent you from considering this natural-looking, comfortable and permanent solution to damaged, diseased or missing teeth. Our friendly team will be pleased to explain a wide range of affordable financial options to fit your budget.
Why wait another moment to learn about implant dentistry? Call us today. We're dedicated to providing you with affordable, top-quality dental care.