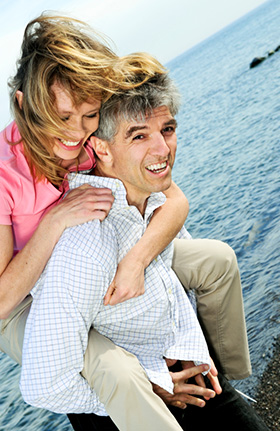 Dental crowns, sometimes called a cap for teeth, in the past were dark metal dental crowns. This cap for teeth interfered with the natural beauty of your mouth. Now you can choose bright white porcelain dental crowns, which reflect light and give your mouth a naturally healthy glow.
Charles Barrett, D.M.D. in Louisville has a few questions for you:
Do you have a cracked or broken tooth?
What about a tooth that's decayed too much to hold a filling?
Did you know that if the crack or decay extends into your root, you will have an even worse problem on your hand?
Benefits of a Cap for Teeth
Dental crowns are a natural-looking and comfortable solution to cracked, broken, or excessively decayed teeth.
Because a cap for teeth fit by Dr. Barrett sits so snugly on the base of your gum line, it won't bother you at all.
In fact, dental crowns or caps for teeth made of metal or porcelain that completely cover and protect what remains of the natural tooth are an extreme improvement when dealing with problematic teeth.
Dental crowns require no special treatment or care. Simply brush and floss as usual and visit with your dentist regularly.
A cap for teeth looks like a natural tooth, so laugh, smile and get your photo taken with confidence!
The modern dental crowns procedure is very simple. Dr. Barrett takes a mold of your mouth, sends the cap for teeth information to the lab and when the cap for teeth is ready, he places the beautiful, natural looking crown.
Call today to meet Dr. Charles Barrett and ask if dental crowns are your cosmetic dentistry makeover solution today. He may suggest dental bridges instead, which can permanently replace one or more teeth. Either way, dental bridges or dental crowns as "fixed" dentistry solutions offered right here in Louisville provide a vastly improved lifestyle compared to removable appliances or partial dentures.