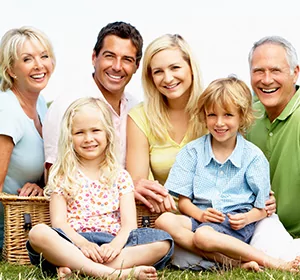 When it comes to general dentistry, your top choice is Louisville family dentist Charles Barrett, D.M.D. You want to have a friendly and caring team of professionals caring for your family's oral health and dental needs. At Barrett Dental Care, we have the training and experience that you can trust to provide quality general dentistry care and oral health care for everyone in your family.
Everyone on our highly-trained team is dedicated to general dentistry – that means we're here to assure that you get the best dental care and oral health care available, from the first toddler appointment through a conversation about dentures.
When should my child see Dr. Barrett for the first time?
At Barrett Dental Care in Louisville, this is one of the most common questions our family dentist hears. While it's really never too early, most children should have their initial appointment with our family dentist by around their first birthday.
A good rule of thumb is that when your baby's first tooth appears, you should call to schedule an appointment. No, there's not a lot of cleaning to be done yet, but the general dentistry professionals at Barrett Dental Care can provide excellent oral health care advice about keeping your child's teeth and gums healthy from the very beginning. Preventative oral health care will protect your baby's smile now and in the future. Family dentist Dr. Barrett is committed to giving your little loved ones the best care possible.
Dental Technology
These days, computers are really changing the way we live and work. You've probably experienced their impact in your own home. Technology is also helping raise our general dentistry dental practice to a new level of safety, accuracy, and comfort.
Keeping up with all these advances is a full-time occupation for family dentist Dr. Barrett that's as important as his work at chairside. One of the most promising of these breakthroughs is an improvement on the oldest evaluation technology we have – dental x-rays. We offer the highest technology to our general dentistry patients and are proud of the efficient quality results this up-to-date technology means to our practice and our patients.
Don't wait any longer to meet a trusted Louisville family dentist for your family. Call Barrett Dental Care to schedule a consultation. We're dedicated to providing you with affordable, top-quality dental and oral health care.